A Ride to Middle Earth, Saturday 12 February.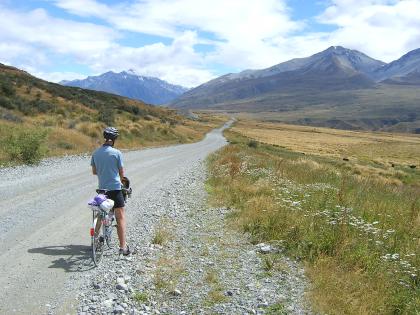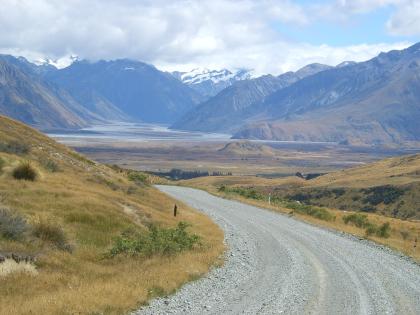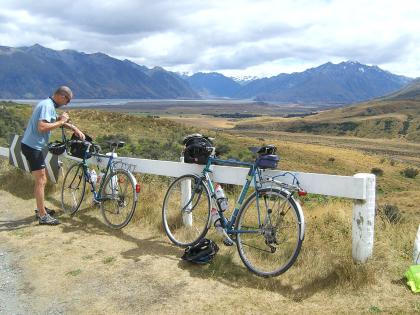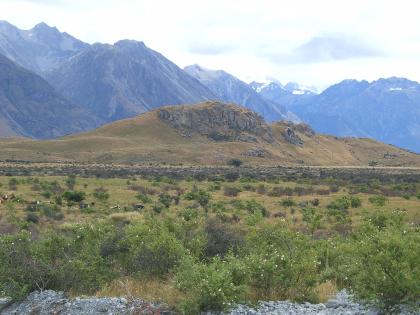 1) Martin on the track to Middle Earth

2) View of the valley of the Rangitata River

3) Lunchstop

4) Mount Sunday (Edoras)
Today was one of the highlights of the trip with a ride up a dead-end road into the remote reaches of the Southern Alps. The ride was up to the spectacular braided valley of the River Rangitata and an isolated rock called Mount Sunday. This was the site of filming of parts of the Lord of the Ring films and the Castle of Edoras capital of the realm of Rohan.
After yesterdays rain the day dawned bright and sunny. We were treated to a slap up breakfast at Awaiti Farm Stay and Catherine kindly made us a packed lunch to keep us going in the remote areas of the Alps.
From Staveley we headed down the road towards Arundel! At the small village of Mount Somers we turned west up the valley of the Ashburton River. The road gradually climbed with about a car every 5 minutes.
The first 20 miles of the route from Staveley was tarred as far as the village of Hakatere (a house and 2 barns) The road then turned gravel climbing up to Lake Clearwater. The scenery became more dramatic and remote with only dry and barren mountains around us.
Eventually we came to a ridge above the valley of the Potts River flowing as a tributary into the massive expanse of the braided spreadout Rangitata River surrounded by high mountains and with snow capped peaks at the head of the valley. This viewpoint had to be our lunchstop.
We headed on down on the track and across the Potts River on a bridge. The track headed on down alongside the Rangitata to the rocky outcrop of Mount Sunday. We stopped nearby for pictures and apart from the track we could imagine ourselves in the depths of Middle Earth.
We retraced our route on the track. By the time we got back to the tarmac at Hakatere we had ridden 29 miles on gravel tracks. On the 12 mile ride from Hakatere to Mount Somers village we were passed by only 2 cars.
We returned to Awaiti Farm Stay to a barbecue meal cooked by our host Adrian. We were entertained by stories by Catherine's brother and a neighbour who called in.
Distance for the day was 68.8 miles with 2342ft of climb at an average speed of 9.6 mph and a riding time of 7 hours 2 mins
Posted by Edwin at 12:06 PM EADT
Updated: Tuesday, 15 February 2005 8:08 PM EADT