Staveley to Coleridge, Sunday 13 February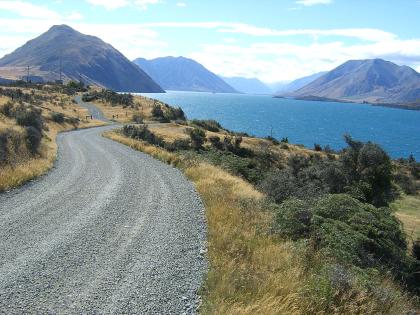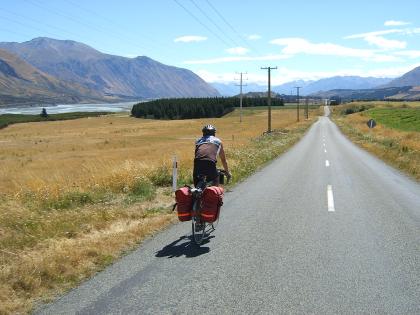 1)Viewpoint on track above Lake Coleridge

2)Martin on the road up the valley of the River Rakaia
Today's ride was quite short at 35 miles so we had a leisurely start. Catherine and Adrian showed us round the farm including the friendly goat, tame baby Deer and the calves they were rearing.
We headed north on the Inland scenic Route 77 which runs on a generally flat route parallel to the foothills of the Southern Alps. To our left rose the peaks of Mount Somers and Mount Hutt and to our right the great flat expanse of the Canterbury Plains.
The day was bright and clear with temperatures rising to 22C.
At midday we descended to the gorge of the Rakaia River with great views from the bridge over the river. The river generally flows in braids
across a wide valley but at this point narrows between rock walls.
We took a shortcut up an unmade road to climb back up away from the river with views of the azure blue river spreading across a wide valley on the Canterbury plain. We had been unable to find any cafes on the route so we stopped at the top for snacks from our bags
We were now headed inland up the valley of the Rakaia River into the depths of the Southern Alps towards Lake Coleridge. For the 12 miles up the valley we had a strong headwind but this did not detract from the magnificent scenery.
Lake Coleridge village is a small village situated about 400ft below the level of the Lake. We left our luggage at Lake Coleridge Lodge and headed on up the lake. This is accessed by a 3 mile long gravel road
with hairpin bends. As we climbed higher the views opened up below us of the azure blue river Rakaia with mountains rising up from the far side
of the valley.
We eventually reached a viewpoint looking out over the clear blue expanse of Lake Coleridge with snow capped peaks falling to its sides in the far distance.
We rode 38.1 miles with 2112 ft of climbing.
Posted by Edwin at 7:32 PM EADT
Updated: Thursday, 17 February 2005 9:58 AM EADT