Akaroa, Okains Bay Ride, Saturday 19 February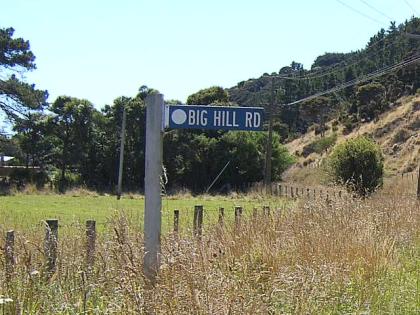 1) Okains Beach

2) Top of the very steep Long Hill Road

3) Appropiate road name near Okains Bay
Today was again bright blue skies and temperatures rising to 23C I decided to set off for a beach. This was not however going to be a lazing around sort of day as the chosen beach was on Okains bay on the Eastern side of the Peninsular with a 2000ft barrier to climb over to get there and then again to get back.
I decided not to take the super steep Long Bay Road I tackled yesterday (once was enough) so headed along the main road near the bay for 4 miles to Robinsons Bay and then up to the Summit Road on the Okains Bay Road. This was a much more sensible gradient with the bike computer reading between 6 and 12% as opposed to between 10 and 18% on Long Bay Road.
Again there were geat views as I climbed. I crossed the Summit road and headed on down at a steeper gradient followed by a long flat road to the village of Okains Bay and then the beach further on.
The beach is on a wide sheltered sandy bay which seemed popular with surfers. As the day went on more cars arrived which parked on the sand. When I left I visited a very good Maori Museum which is one of only a few houses in the village.
The return back up to the Summit Road was easy at first and then very steep with grades between 12 and 17%. I took the slightly longer route back along the Summit Road with great views and then to the top of Long Bay Road and a steep descent to the smell of brake rubber.
Distance for the day was 30.2 miles but with 4780ft of climb (nearly 3 times the climb of an average 50 mile club ride) Average grade for the day was 9% with an average speed of 8.2 and ride time of 3 hrs 36 mins.
Posted by Edwin at 2:09 PM EADT
Updated: Sunday, 20 February 2005 3:06 PM EADT