Sydney, Bondi Beach, Thursday 24 February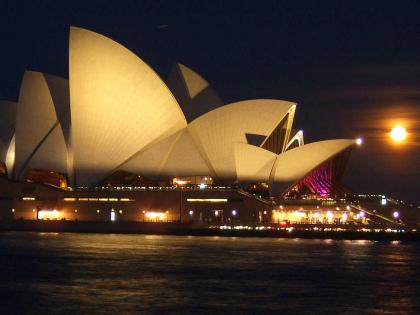 1) Bondi Beach

2) Circular Quay

3) Opera House with the Moon rising
Today was going to be a serious rest day with a trip to Bondi Beach. Weather was ideal beach weather being sunny all day and getting to 29C.
The journey there was interesting with first a ferry to the City Centre at Circular Quay and then a train on Sydney's Cityrail System to Bondi Junction. The Circular Quay train station is right next to the ferries and trains are double Decker's. The system is partly underground and partly overground especially in the suburbs
Bondi junction is about 3 miles from the beach so I got a bus from there. The bus station is built on top of the underground rail station. This is what I would call an integrated Transport system.
Bondi beach was as I expected a long bay of golden sands with lifeguards and lots of sunbathers and surfers. The rest of the day was given over to serious rest, sunbathing and wandering the esplanade.
I returned to Circular Quay soon after sunset for the now obligatory nightime photo shoot.
Posted by Edwin at 6:48 PM EADT
Updated: Friday, 25 February 2005 8:52 PM EADT