Queenstown Bungy Jumping, Saturday 5 February.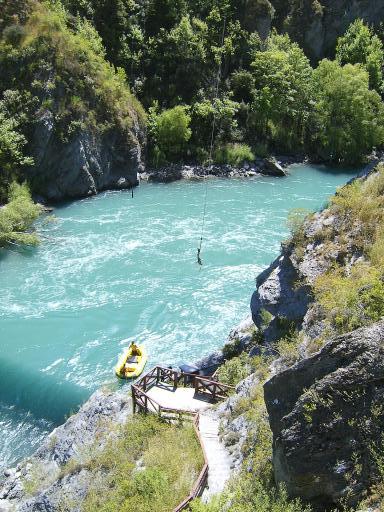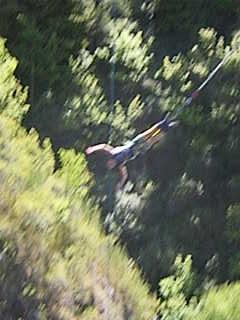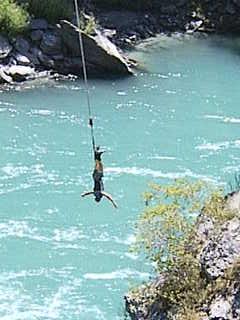 1) Martin bungy jumping, original picture showing the great height

2) 10 times digital enlargement of a picture of Martin bungy jumping

3) 10 times digital enlargement of another picture of Martin bungy jumping
Today is Martin's big day. At 12.00 he will be picked up by coach from the Bungy Centre in Queenstown and taken 12 miles out of town to the 140 ft high suspension bridge over the River Kawarau.
This is the location of the AJ Hackett Bungy Jump Centre with Cafe and Spectator viewing platforms.
Peter was delegated to use Martin's Video Camera and I planned to take pictures with both my Digital and slide camera.
Peter arranged to get a lift with Martin's coach. I had had enough time off the bike and decided to cycle there. The day again dawned bright and sunny with temperatures up to 33C.
We had to wait about an hour as Martin was checked and weighed and then queued up. The weights can be adjusted so that the jumper can do anything from just missing the water, to the top of the head to a full dunking up to the waist. When given the choice Martin went for the full dunking.
The procedure is that the ankles are tied and the jumper walks out on the platform and on the count of 3 throws themselves off towards the water below. The jumper before Martin was very nervous and refused to jump the first 2 times he was given the count of 3.
To keep up cycling appearances Martin wore his Alpe Huez cycling Gilet. Martin leaped off without hesitation and got a very good dunking and then let off a very good yell on the rebound.
After several bounces up and down a recovery crew in a boat stuck a pole up for Martin to grab hold of and then pulled him down into the boat.
The whole operation was very professionally handled. Martin had paid extra for some pictures and a DVD and these were all ready within minutes of the jump
Posted by Edwin at 8:11 AM EADT
Updated: Friday, 11 February 2005 11:09 AM EADT