CHILE TRAVEL NOTES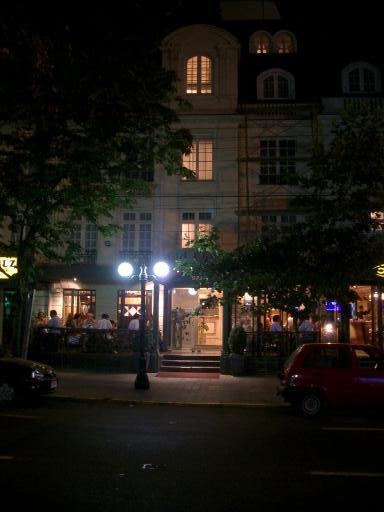 Orly Hotel, Santiago
These are some notes on our trip to assist future travellers to Chile especially with bicycles.
I found it difficult to avoid staying in a Santiago City Centre hotel if pre-booking. I was not able to find any hotels near the airport. This then brings up the problem of getting through 15 miles of very busy traffic when even the locals find it too dangerous and use the pavement/sidewalk. Note also that there are no decent Santiago Street Maps obtainable in advance.
I would recommend using the Airport minibus services which run direct to any City Hotel and will take bikes in bike boxes. Cost for exclusive use of a minibus is 12,000 pesos (about US $22) and less if shared. At Santiago International Airport there are desks in the baggage claim area before going through customs for the 2 firms , TUR and Transvip.
We stayed while in Santiago at the Hotel Orly in the Providencia region of the City. This hotel has justifiably good write-ups in guidebooks. The staff were very helpful despite having to cope with bike boxes and bikes with limited storage space. The included buffet breakfast is excellent.
While in Los Andes for the Mendoza Pass route we stayed at the Hotel Plaza in the centre of Los Andes. Although the rooms had no air-conditioning the hotel was in other respects ideal. The hotel has a motel type of layout surrounding a central courtyard and parking area. This means there is no noise from the street while the hotel is in the middle of town. Bikes were allowed in the rooms and a small swimming pool is available.
The area around Los Andes is good for cycling being quite flat but some good lanes were found by accident because maps obtainable in advance
were of inadequate scale.Roads were tarmaced but of poor quality with networks of cracks.
The route from Los Andes to Mendoza in Argentina is seriously spectacular and worth cycling. If doing an up and back route like we did bear in mind that the border control is a mile beyond the centre of Portillo and about 6 miles short of where the real border is at the tunnel at the top. However for the purpose of all border formalities you are treated as leaving Chile and entering Argentina if you pass the border control at Portillo.
For anybody going through to Argentina the long tunnel at the top is closed to cyclists so either a lift will need to be hitched from a pickup or other internet reports indicate the border guards may assist.
Posted by Edwin at 12:15 PM EADT
Updated: Sunday, 16 January 2005 8:36 PM EADT