DISASTER. Dunedin to Beaumont (2), Wednesday 2nd February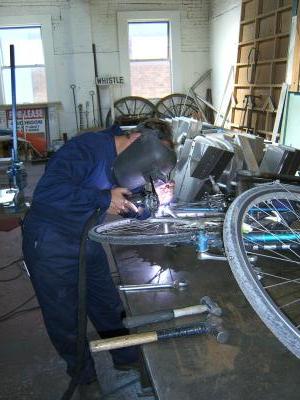 Mercian Bicycle on its Sickbed undergoing Surgery
DISASTER. Dunedin to Beaumont (2), Wednesday 2nd February
We continued on the descent of the gravel road to Waihola on the main road. As we neared the bottom the road finally turned back to smooth tarmac. A mile further on and we came to a section of newly re-laid sticky tarmac with loose stone on top not yet bedded down.
As I cycled along everything suddenly seized up with a sickening crunch.It would appear that a stone sticky with tar had stuck to the chain as it went round and jammed in the gears and in the second before I stopped pedalling the force of the pedal revolution tore the gears off the gear hanger tearing out one of the jockey wheels.
Close examination revealed that the really serious damage was to the gear hanger which is part of the frame. This was badly bent and the circle of the gear hanger torn apart leaving options of either welding repairs or a new frame.
We were just into town and a few hundred yards from a cafe so we repaired there for lunch and to assess the position. Where we were now and for the next few days of the route was very much the back of beyond
so far as bike repair facilities were concerned so clearly I had to return to Dunedin for repairs.
We decided to split up. I passed the map and the paperwork for the accommodation to Martin. The plan was to meet up in a couple of days.
We checked into buses for getting me back to Dunedin but there was nothing until the evening so I decided to ring for a taxi which cost about 30 pounds. The bike was stuffed in the taxi boot. I dropped
luggage off at Hulmes Court B & B and then the taxi took me and bike round to the Cycle Surgery Bike Shop. They sent me round to a local steel fabricator, Nealsteel. The bike was put on its sick bed for a spot of welding while I waited and a charge made of 10NZ$ (4 pounds)
Back to Cycle Surgery and although full up with jobs they agreed to complete the repair for 4pm the next day. This will involve fitting a dropout support to replace the threads lost by the damage and the welding. They will also fit new gears by borrowing some from a bike as they do not hold the right type in stock.
There are no buses Thursday evening so I next booked a bus for first thing Friday morning from Dunedin to Cromwell arriving 11.30. On Friday Martin and Peter will be riding from Alexandra to Queenstown and should be in Cromwell for about 11s so I rang Peter at the Beaumont Hotel and arranged
to meet up at Cromwell.
Posted by Edwin at 5:43 PM EADT
Updated: Saturday, 5 February 2005 5:52 PM EADT