Coromandel to Colville, Wednesday 19 January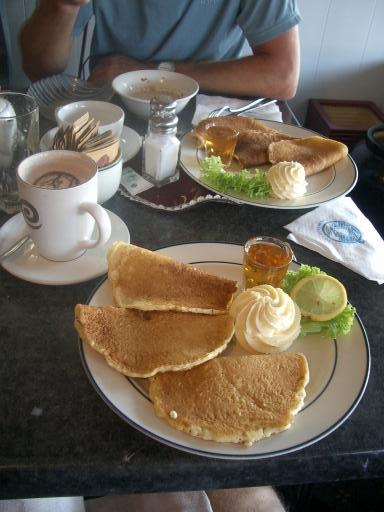 Breakfast in Coromandel
We were staying 2 nights in Coromandel so today was an out and back ride without panniers north up the peninsula to Colville.
We stocked up with a Cafe breakfast of pancakes with maple syrup and cream. The ride was only 30 miles total but involved 3 climbs each way of between 4 and 600ft. We headed north along the coast with more great scenic coast views.
The tarmac dead-ends at Colville so the landscape became more remote as we went further north. The last of the climbs was the best with views from the top looking like the lost world of Jurassic Park.
One notable thing about the landscape of the northern part of North Island is the mixture of temperate and tropical vegetation and this was very notable in the remote parts of the Coromandel with many types of fern growing.
Martin had problems with his gears on the return ride. On return to base a visit was made to the local lawnmower seller who also knew a little about bikes. The problem was found to be a stone picked up from new gravel on the road and lodged in the derailler
Posted by Edwin at 2:15 PM EADT
Updated: Tuesday, 25 January 2005 8:31 PM EADT