Draft Trip Itinerary
A winters ride near Chichester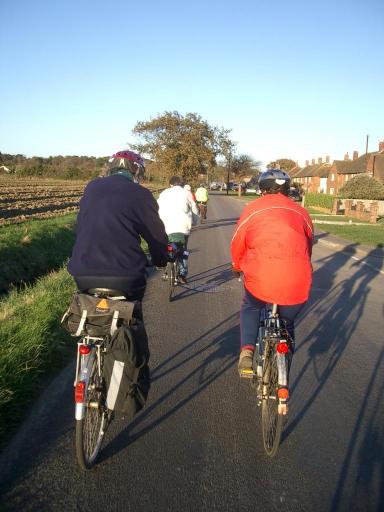 Below is the draft Itinerary for the trip sent out to the group.
BOGNOR REGIS & CHICHESTER CTC CLUB TOUR
NEW ZEALAND
JAN/FEB 2005
ITINERY
Thur 6 Jan
Depart Heathrow 20:50 arrive Buenos Aires 09:20 7 January.
Fri 7 Jan
Depart Buenos Aires 11:40 arrive Santiago 12:55. Taxis and van to take bikes and boxes to hotel. Details not yet confirmed.
Stay overnight at Hotel Orly , Pedro de Valdeva, Providencia Santiago.
Sat 8 Jan
Santiago - Los Andes (56 miles)
Stay overnight - location not yet confirmed, no reply
to date. Provisionally at Hotel Plaza, Los Andes.
Sun 9 Jan
Los Andes
Out and back ride. Take in the spectacular route over the Andes on the Mendoza Road and towards the Argentine border. Ride on
as far as we feel up to but possibly as far as the tunnel which marks the top just before the border at 3185 metres. Then ride back down to Los Andes (88 miles).
Mon 10 Jan
Los Andes - Santiago (56 miles) Stay overnight Hotel Orly as before
Tues 11 Jan
Santiago - Rest Day. Out and back ride into the Andes South West of Santiago or if you prefer have a look round Santiago.
Stay Hotel Orly.
Wed 12 Jan
Fly out Santiago - Auckland via Sydney Look round Santiago in the morning. Flight departs at 23.25.Taxi and Van to pick us up from Hotel to take us to the airport with the bikes and boxes. Details to be confirmed. (Cross International Dateline as taking western route and lose a day)
Fri 14 Jan
Arrive Auckland 14:15. Pickup by taxi with luggage trailer
from Quality Cabs which is booked. Stay overnight Aspen House, 62 Emily Place, Downtown Auckland New Zealand.
Sat 15 Jan
Auckland - Rest Day
First post packing materials to Christchurch B&B for the
flight back. Explore the City including a visit to the
Sky Tower.
Sun 16 Jan
Auckland - Rest Day More time to explore the City and the surrounding harbours.
Accommodation as before.
Mon 17 Jan
Auckland - Thames (58 miles)
Accommodation - Stay Brian Boru Hotel, 200 Richmond Street, Thames
Tues 18 Jan
Thames - Coromandel (55 miles) Stay at Coromandel Court Motel, 365 Kapanga Road, Coromandel Town, New Zealand.
Wed 19 Jan
Coromandel - Rest Day Take in local beach. Take a scenic loop road further up the peninsular.Accommodation as above at Coromandel Court Motel.
Thur 20 Jan
Coromandel - Whangamata (72 miles)
Head round the northern bays of the peninsular and then down the east coast.
Stay at Breakers Motel, Hetherington Road, Whangamata
(Spar Pool with the room)
Fri 21 Jan
Whangamata - Hamilton (94 miles)
After crossing one range of hills most of the days ride is
across the central agricultural plains.Stay at Ventura Inn and Suites, 23 Clarence Street,Hamilton
Sat 22 Jan
Hamilton - Rotorua (travel by bus)
Intercity Coachlines Bus. Depart Hamilton 10:10 arrive Rotorua 12:10- PM (note - bikes and some luggage can be left at Ventura Inn, Hamilton) visit geysers and
local Mauri Hot Springs Village
Stay overnight Havanna Motor Lodge, 1078 Whakaue Street, Rotorua.. Hot mineral pools And swimming pool at the Motel
Sun 23 Jan
Rotorua - Hamilton (travel by bus)
AM - Morning bus tour with Elite Adventures to Wau-O-Tapu Thermal Wonderland and Waimanga
Volcanic Valley. Intercity Coachlines Bus. Depart Rotorua 5:15pm Arrive Hamilton 6:45pm
Stay at Ventura Inn and Suites as before
Mon 24 Jan
Train - Hamilton - Wellington
The train departs 11:40 arrives Wellington 8:30pm. Stay the night Wellington Motel, 14 Hobson Street,
Thorndon, Wellington
Tues 25 Jan
Wellington-Picton
Time in the morning to take a look around Wellington and do some shopping. In the afternoon catch the ferry to
Picton on the northern tip of South Island.Travel Inter Island Line - The Linx Ferry. Latest Check in 3:00pm Arrive Picton 5:45 pm
Stay overnight Jasmine Court Travellers Inn, 78
Wellington Street, Picton
Wed 26 Jan
Picton - Nelson (70 miles)Take a scenic road alongside Queen Charlotte Sound and cross
A range of hills to the Tasman Bay coast and down to Nelson.Stay at Trafalgar Lodge, 46 Trafalgar Street, Nelson.
Thurs 27 Jan
Nelson - Murchison (60 miles)
Head south in scenic and remote countryside. Stay at Murchison Motels, 53 Fairfax Street, Murchison.
Fri 28 Jan
Murchison - Maruia Springs (64 miles) A Ride along the valley through the Southern Alps to stay at The Hot Springs Resort of Maruia Springs. Stay at Mariua Springs Thermal Resort
Sat 29 Jan
Maruia Springs to Hanmer Springs (65 miles) A short climb up to Lewis Pass and then an undulating descent to Hanmer Springs which is another hot springs Resort.Stay at Hanmer Resort Motel, 7 Cheltenham Street Hanmer Springs.
Sun 30 Jan
Hanmer Springs - Christchurch (74 miles) Fairly flat all downhill route to Christchurch.
Stay at Home Lea Bed and Breakfast, 195 Bealey Avenue, Christchurch
Mon 31 Jan
Bus - Christchurch to Dunedin
Only two bicycles can be taken on each bus. The booking Made is for 2 passengers and 2 bicycles on the Atomic Shuttles Bus from Christchurch to Dunedin. Pick up
is at 7:45am opposite "The Holy Grail" 88 Worcester
Street, Christchurch. Second booking is made for 1
passenger and 1 bicycle with a pick up at 3:00pm again opposite "The Holy Grail" 88 Worcester Street,
Christchurch. Stay overnight at Hulmes Court Bed and Breakfast, 52 Tennyson Street, Dunedin.
Tues 1 Feb
Rest Day - Dunedin
Accommodation as before NOTE The Rest Day is switched from Christchurch to Dunedin to give a spare day in case of any problems with the buses. Also we have a day in Christchurch at the end of the trip. In Dunedin visit Baldwin Street the steepest street in the world at 38% gradient.
Wed 2 Feb
Dunedin - Beaumont (72 miles) Head south first then head north west in the direction ofThe distant Alps. Stay overnight at The Beaumont Hotel, Beaumont Road, Beaumont
Thur 3 Feb
Beaumont to Alexandra (50 miles) Head on up a valley among the Alps. Stay at Alexandra Avenue Motel, 117-119 Centennial Avenue, Alexandra.
Fri 4 Feb
Alexandra to Queenstown (60 miles)Head on across a scenic barren area in the rain shadow of the Southern Alps. Stay overnight at Four Seasons Motel, 12 Stanley Street, Queenstown.
Sat 5 Feb
Queenstown - Rest Day
This is a place with 1001 activities from Bungi jumping to scenic flights over Lord of the Rings film locations.
Accommodation as above.
Sun 6 Feb
Queenstown - Te Anau (71 miles)
Take a steam ferry across Lake Wakatipu and then 51 miles Remote countryside rough stuff route. Then 20 miles on road.
NOTE this will be a difficult day because the earliest
Ferry gets to the other side of the lake about 10:40
and the long rough stuff route means we are likely to
arrive late in the evening
Stay at House of Wood Bed and Breakfast, 44 Mona
Crescent, Te Anau.
Mon 7 Feb
Te Anau (Milford Sound Trip) Due to the distance and a 3 mile rough track unlit tunnel on the route suggest taking a bus to Milford Sound and
then a boat cruise.
.
Tues 8 Feb
Te Anau to Tuatapere (62 miles) Scenic route south alongside Lake Manapouri and then A minor road down to the south coast. Stay at Waiau Hotel, 49 Main Street Tuatapere.
Wed 9 Feb
Tuatapere - Invercargill (50 miles)
Follow the south coast. Stay at Heritage Court Motel, 40 Thompson Street,Invercargill
Thur 10 Feb
Bus - Invercargill - Christchurch/Ashburton
Edwin and Martin are booked on the Automic Shuttles
Bus from Invercargill to Dunedin (10:00am from
Invercargill Information Centre) arrive in Dunedin
2:00pm. Then a connecting bus from Dunedin
Railway Station at 2:30 pm arrive Ashburton 7:00pm.
Peter is booked on first the bus from Invercargill to Queenstown departing Invercargill Information
Centre at 9:15am arrive in Queenstown at 12:10. Then the Queenstown to Christchurch bus departing Queenstown Station at 1:45pm arrive in Christchurch 9:00pm Note that the Queenstown to Christchurch bus
journey goes through some of the more spectacular
areas of the Southern Alps within sight of Mount Cooke.
Note that the two different bus routes were the only
way to get three bicycles booked. There is another
bus company operating but they do not guarantee
carriage of bicycles and it is up to the driver on the
day depending on capacity.
Accommodation :-
Peter Home Lea Bed & Breakfast, 195 Bealey Avenue, Christchurch
Edwin and Martin
Stay overnight at Ashburton at Best Western Coronation Park, 80 East Street, Ashburton.
Fri 11 Feb
Peter - Rest Day in Christchurch (fly back the 12th)
Stay overnight Home Lea Bed & Breakfast as before
12 Feb
- Taxi booked to the airport to take Peter and his bike.
Fri 11 Feb
Edwin and Martin
Ashburton - Staveley. (15 miles) Head west to stay in the Foothills of the Southern Alps.Stay overnight at Awaiti Farm Stay, Staveley
Edwin and Martin only
Sat12 Feb
Staveley - ( 75 miles)
Do an out and back ride on a road which starts out tarmaced and then turns rough and climbs into a
high valley in the middle of the southern Alps which was
the location for filming of The Realm of Rohan in the
Lord of the Rings. Stay at Awaiti Farm Stay as before
Sun13 Feb
Staveley - Lake Coleridge - (35 miles)
Follow roads along the foothills of the southern Alpsand then roads west again up the valley of the River Rakaia to stay at Lake Coleridge.
Stay at Lake Coleridge Lodge, Lake Coleridge.
Mon 14 Feb
Lake Coleridge to Christchurch (70 miles)
Take a side road climbing through the Southern Alps and then join the main route coming down from Arthur's
Pass just before Porters Pass at 945 meters.Then a long descent via Springfield to Christchurch.
Stay at Home Lea Bed & Breakfast 195 Bealey Avenue
Christchurch.
Tues 15 Feb
Rest Day - Christchurch
Stay Homelea Bed & Breakfast as before
16 Feb
Martin flys back. Taxi booked to pick up Martin and bike from Homelea Bed and Breakfast at 12:00 noon
22 Feb
Edwin Flys to Sydney Australia
8 March
Edwin flys to Singapore
11 March
Edwin flys to London, arrives 12 March.
Posted by Edwin at 6:03 AM EADT
Updated: Sunday, 19 December 2004 9:44 AM EADT